It's pretty simple:
communication = engagement = success
Communication drives success, whether you're talking about customers, suppliers — or, most importantly, employees. Engaged employees deliver great results. But a workforce with low morale, high turnover or falling performance can be a real drain on your bottom line. Consider the facts:
Turnover costs U.S. businesses

$11 billion

annually1

29%

of U.S. employees are fully engaged
The cost to replace an average employee is

$13,996

3

18%

of U.S. employees are actively disengaged2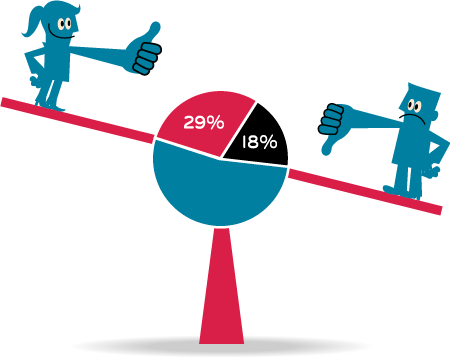 The secret to success is communication. Employees who feel like they are in the know are more likely to go the extra mile, stick with the company through good times and bad and make a positive impact on the bottom line.
Biscom can help you ignite the passion in your employees with consistent, straightforward communication to:
Increase employee engagement
Boost appreciation for your company
Influence behavior and facilitate change
Share the facts — good or bad — ahead of the rumor mill
Done right, communication can have a dramatic impact. Employees who find their benefits communication effective, for instance, are more than twice as likely to say they are very loyal to their company.4 And loyal talent tends to stick around.
---
1 Bureau of National Affairs
2 Gallup
3 Bureau of Labor Statistics
4 MetLife